LITERACY EXHIBITION
During the festival, authors will read and discuss their works, answer questions, sign their books, and more. All virtual literacy related activities will take place during segments that will happen virtually.
Are You An Author? Follow below
INSTRUCTIONS FOR SIGNING UP
a. Scroll down and click on Author Sign Up button below to open the Register page.
b. Scroll down and click on the "REGISTER TO FEATURE YOUR PUBLICATION" button.
c. Complete, sign, and submit the application form.
d. Send a bio that is between 3-5 paragraphs and a picture to WhatsApp number 571.295.2359
Let Us Know if You Want to e-Sign Your book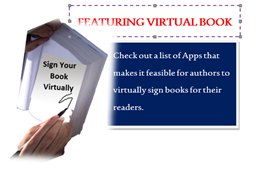 Have you ever electronically autographed (e-signed) your book?
Do you have an application that can do this? If not, you can consider Autograph (see Literacy webpage). Note: WEN has no business connections with and does not represent Autograph.
If you sign up with an electronic application to e-sign your book, please inform us ahead of time.
IF YOU ARE SELECTED FOR A BOOK READING IN ONE OF THE SEGMENTS, FOLLOW THE TECHNICAL REQUIREMENTS BELOW
PREPARATIONS BEFORE EVENT
Because we've presented your book as a reading, we want to do everything we can to make your book reading a smashing success.
Here are some questions we've thought about that need your answers, so that we can mention them before, during, and after the event:
a. Can readers preorder your books with the bookstore?
b. Will bookstores marketing your book also put books on hold for buyers?
c. Are the links to websites marketing your book(s) easily accessible?
d. Are you interested in readers reaching you for book readings, signings, etc. If so who and where can they reach? (Provide the contact – Name, phone, email)?
e. What is the anticipated wait time for readers to contact you?
f. Are you available for a reading rehearsal a week before if that request was made of you? Prepare to do a reading, probably a week before to test any technicalities.
SOME HELPFUL TIPS
a. Remember, you are giving the audience a taste of your book not a menu, so come prepared
b. You've been allocated 10mins, keep your reading short and stick to the allotted time to keep from being cut off.
c. After the host introduces you, do your reading, staying within the time you've been allotted.
d. There will be a Q&A session toward the end of the segment. Please be prepared to answer questions from the audience at that time.
ALL LITERACY EVENTS ARE FREE AND OPEN TO THE PUBLIC