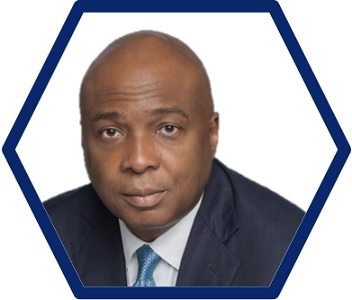 DR. ABUBAKAR BUKOLA SARAKI, MBBS, CON
Dr. Abubakar Bukola Saraki is the immediate-past President of the 8th Senate of the Federal Republic of Nigeria (2015 – 2019). After his election on June 9, 2015 as the president of the 8th Senate, he quickly commenced work for the adoption of the Senate Legislative Agenda, which focused on three broad areas: Improving Livelihood, Improving Governance and Improving Business.
In his first term as Senator representing Kwara Central District (2011 – 2015), Saraki was appointed the Chairman of the Senate Committee on Environment and Ecology, while also serving on the Senate Committees on Capital Markets and Finance. Before his election to the Nigerian Senate in 2011, he had previously been twice elected as the Governor of Kwara State, North Central Nigeria, for a period of eight years. During his tenure as Governor, Dr. Saraki transformed many aspects of Kwara state and delivered major reforms for the benefit of its citizens.
In his second term as Governor, Saraki was unanimously elected by his colleagues across political party divides as the Chairman of the Nigeria Governors Forum (NGF) – an association of State Governors in Nigeria. He had earlier served as Special Assistant on Budget Matters to President Olusegun Obasanjo between 2000 and 2002 during which time he initiated the Fiscal Responsibility Bill and served on the Economic Policy Coordination Committee, where he was responsible for the formulation and implementation of several key economic policies for Nigeria.
Before his appointment as aide to the President of Nigeria, he has had considerable experience in private business, especially in the banking sector where he served as executive director and executive vice chairman of the Societe Generale Bank.
Born in 1962, he trained as a medical doctor at the London Hospital Medical College, London, where he obtained an M.B.B.S Degree in 1987. He practiced medicine in Rush Green Hospital, Essex, from 1988 to 1989 before returning to Nigeria to an illustrious career in business and the banking sector.
Dr. Saraki is married to Toyin Ojora–Saraki, a lawyer and Founder-President of the Wellbeing Foundation Africa (WBF Africa) – a pan-African maternal health and wellbeing charity. Together, they have four children.