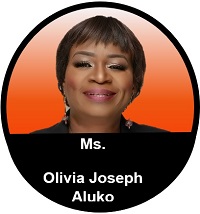 Olivia Joseph- Aluko LLB, B.L, MA (law) is a lawyer, migration scholar, social justice advocate with a strong proclivity for the Human Security Pillars.
She started her career in law in Nigeria, Africa, where she qualified as a Solicitor and Barrister of the Supreme Court in Nigeria. Olivia progressed to complete her master's degree in migration and law at the world class research institution, Queen Mary's University of London.
Olivia is currently working with other community-based organisations in the UK and other international organisations in addressing the causes and solutions to inequality and exclusion within the society.
Olivia is the CEO of REOPASS family navigators Ltd, a not for profit organisation that exists to work with and signpost families that have been separated and divorced
She is also likewise the CEO of Reinvent African Diaspora Network, UK (RADET) an educational initiative that stimulates debate on migration and diaspora studies through interactive engagements and roundtable discussions.
Olivia has participated and presented papers at both local and international conferences. Olivia is also a writer and author of books. Olivia is currently working on the next edition.