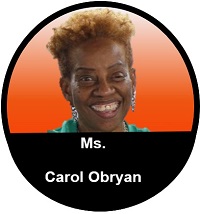 Ms. Carol O'Bryan Henneman is a career educator/media specialist with 40 years of experience teaching k-college-level writing, editing, and publishing. She has lived most of her live in St. Thomas, Virgin Islands.
She began her career as a media specialist at the governor's office at St. Thomas, Virgin Islands where she wrote reports and publications for Governor Charles Turnbull, PHD. She moved on to become an assistant professor of English at the University of Virgin Islands, teaching English and humanities courses in the Humanities division, supervision writing across the curriculum component.
She later became an executive assistance to the Executive Director/Director of Public xRelations, St. Thomas Virgin and retired as the Executive Director of the Virgin Islands Board of Education, St. Thomas, Virgin Islands, where she oversaw the creation and implementation of new policies for all functions of the board.
Ms. Carol obtained her Master of Arts in English and Education at the University of Connecticut, Storrs Connecticut United States
Ms. Carol has won numerous awards and honors. Honors include: Board member-Lutheran Social Services, Board member- Ebenezer Gardens Senior Home, Member- Iota Phi Lambda Sorority, Member-Virgin Islands for Responsive Government Member- Frederick Evangelical Lutheran Church and award include: Woman of the Year- Business and Professional Women, Organization Outstanding Educators of America, Who's Who in American Education, and Nguzo Saba Award – NIA.