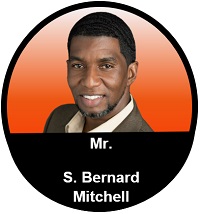 S. Bernard Mitchell is owner and operator of Steven Bernard Enterprise, a company management and consulting firm. Bernard has 14+ years' experience in the fire and life safety industry and is certified with the National Institute for Certification in Engineering Technologies (NICET) at level 2 in fire protection engineering technology inspection and testing of water-based systems. Bernard is also credentialed with the American Fire Sprinkler Association with level 4 credentials as a fire sprinkler fitter.
Bernard has earn a certification in the entrepreneurship program with the Massachusetts Institute of Technology (MIT). He has experience as a fire sprinkler system installer, designer and water-based systems inspector. He is a qualified and competent trainer in regards to fire protection systems and understanding the components, maintaining and operation of fire protection systems and life safety applications.
Bernard is a business owner and consultant who has helped shaped the careers and businesses of many around the world in various industries. Bernard is also a motivational teacher who provides business consulting and mentoring services to individuals, entrepreneurs and corporations on team building and leadership skills in the United States, Nigeria, South Africa and Zimbabwe Bernard is founder and owner of several businesses; B-U Energy and Mining Solutions, Inc, a renewable energy company, SBE Fire and Life Safety, a fire protection company and B-U Entertainment Worldwide, an entertainment and multi-media firm.
In his spare time, Bernard enjoys spending time with his son, traveling, playing basketball, playing golf, reading books and a good cup of tea.