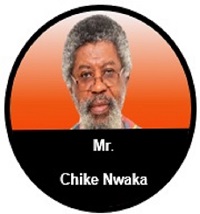 CHIKE NWAKA: a writer, poet, artist, cartoonist and former newspaper columnist. He was the immediate past Chairman of the Society of Nigerian Artists, SNA, Enugu State, Nigeria.
He was a Principal Lecturer in Fine/Applied Arts, and Art History at the famous Art School of IMT Enugu, where he earlier did his undergraduate studies. He had his High School education at the elitist Government Secondary School, Afikpo. For his Post-Graduate studies, he went to Nnamdi Azikiwe University, Awka and the University of Benin. A man of many parts, after his academic lecturing role, he enlisted into the Federal Road Safety Corps, where he served for several years and retired from, as an Assistant Corps Marshal/Regional Commander. He plays the guitar, and composes songs as a hobby.
His first published book is the Comical Satire, CHEEKY CHYKE Meets the President. He is the author of The Wheel of Safety, and Eze Chima: an ancient Aro epic, published by Amazon.